2019 Cabo Fishing Tournament Schedule
Cabo San Lucas Fishing Tournaments 2019
East Cape Off-Shore - Aug 1-4, 201
Los Cabos Off-Shore - Oct 17-20, 2019
Black & Blue - Oct 22-26, 2019
Deep Sea Fishing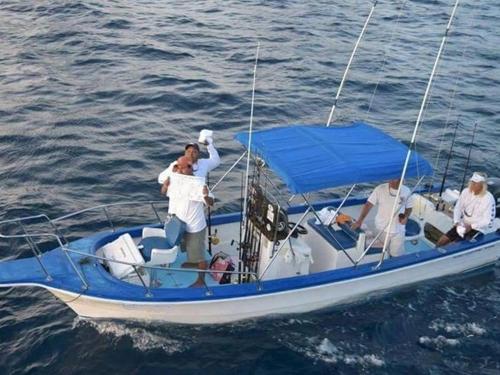 The waters surrounding Cabo San Lucas are known around the world for its excellent fishing. The sportfishing fleet offer cruisers, yachts or the popular 'panga' for your adventure on the Sea of Cortez. Hotel Mar de Cortez recommends several that are known for their competitive rates, reliability, personal service and "on time" performance. Their English speaking crews are focused on anglers' complete satisfaction. Fishing is great year 'round, with certain months better than others. Stay with us, enjoy your day out on the Sea of Cortez, and then bring your fresh fillets back to the hotel where our El Cortez Restaurant staff will prepare your catch of the day dinner. And we can freeze it too, for you to take home in your cooler.
Hook 'em up using one of the many fishing fleets in Cabo...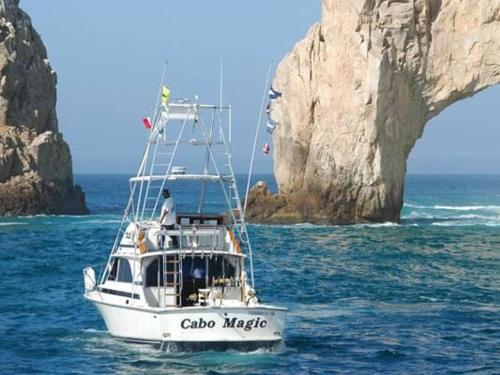 There are a number of sport fishing fleets in Cabo San Lucas that we recommend and you are welcome to give us a call in this regard. One popular fleet which has a number of boats of various sizes and sends many guests to the Mar de Cortez is CABO MAGIC, https://cabomagic.com. They will take care of all of your fishing needs.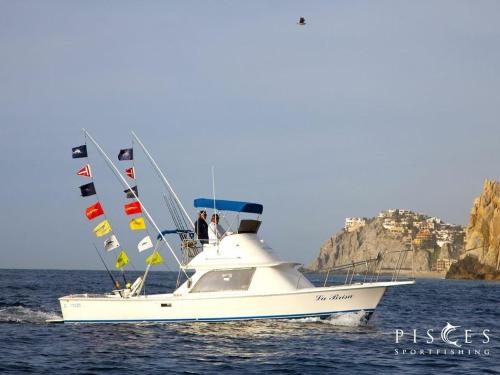 These are the questions we suggest you ask when hiring a fishing boat or are talking to sportfishing charter companies. Do they have the bait casting & trolling tackle, reels such as the Penn 2 Speed International Reels, Custom Rods, Fresh Live Bait, Fighting Chairs for at least 2 Anglers, two outriggers, Electronic Fish Finder & Radio, GPS System, Ice Chests, Modern Head, are they fully insured, docked at the downtown marina, and do they encourage Catch & Release? Also, always question their experience and ask for references, plus an all-inclusive daily charter rate.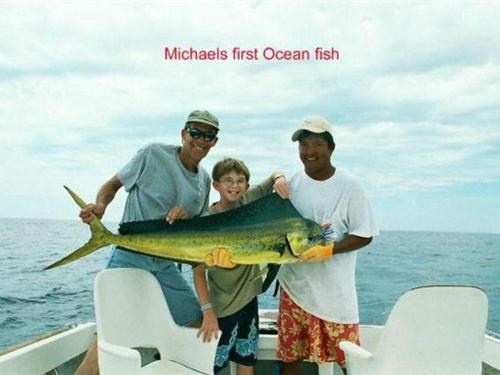 Fishing is excellent all year round where you will fish either the Sea of Cortez or the Pacific Ocean. This past November, for example, the conditions were very calm on the Sea of Cortez side of the Peninsula. The water was stirred up and greenish close to shore, but further out it was clear and blue, with temperatures averaging right around 80 degrees.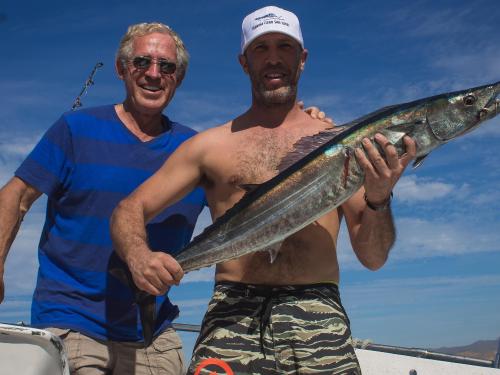 The catches included Yellowfin Tuna, Dorado, Wahoo, Pargo, Rainbow Runner, Amberjack, Sailfish, Skipjack, Cabrilla, Bonita, Sierra, Roosterfish, and Blue, Black & Striped Marlin. Wahoo and Yellowfin Tuna are common species targeted by the panga fleets, the areas from the Gordo Banks to Iman was where the most consistent action was found. The larger tuna were taken off the Inner Gordo Banks, with many anglers ending up with two to five tuna per panga in the 40 to 75 pound range.

Be sure to bring your own ice chests with you so that you can get help to filet your catch dockside where the fish are weighed. There are plenty of willing hands to help you get the heavy chests to the Hotel Mar de Cortez where a large refrigerator will keep it cold until you leave for the airport.