Shopping in Cabo! Shop 'til you drop.
From the Hotel Mar the Cortez it is an easy walk to innumerable shops with everything from Mexican-made silver items, a wide variety of pottery & one-of-a-kind household furnishings & decorative pieces--an interior designer's dream come true--plus clothing, blankets and many gift items.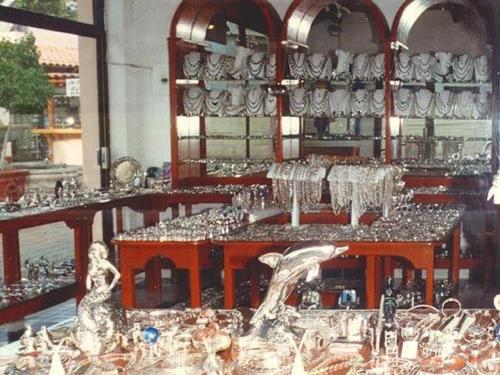 Then there are the myriad galleries and crafts establishments such as the Galerias de Kaki Bassi with over 3000 sq. ft. of selected fine art, and collection of photographs and paintings of the cave art of Baja California Sur. Her work is in the collection and protection of the Mexican Government (INHA). The Glass Factory where original pieces of blown glass are being created by Mexican artisans. The Jewelry Factory owned by Manuel Sanchez, a U.S. certified gem expert who studied in Santa Barbara, California. See his large selection of gems including authentic and unique Mexican Opals.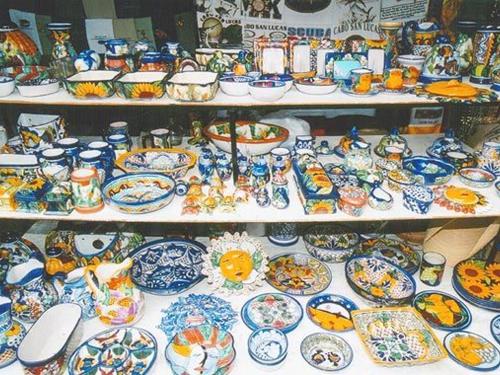 Watch while his artisans repair your jewelry or create, within 24 hours, any design to your specifications in silver or gold. Detalles Gift Store, with its gift baskets. Bring in your own items and have them wrapped uniquely in a hand made basket. The Baja Wilderness Company is a working studio specializing in etched glass and stone. Zen Mar Mast Store, native Mexican art & crafts. Masks from Oaxaca & Guerrero, "Zapoteca" wool rugs and gifts. Necri Boutique, unique selection of Pewter from Mexico City and many other fine Mexican handicrafts such as Talavera & hand painted ceramics.
Want to give shopping a rest and find out more about the area's history, visit a museum such as the Anthropological Museum of La Paz with its collection of various artifacts from the cape region. Exhibits of prehistoric bones and fossilized Mastodons and photographs of the great Mural Paintings of Baja California Sur. Or the recently opened Museum de Las Californias featuring archeological/historical displays of primitive and local artists and artisans including photographs of the Great Mural Painting from Sierra de San Francisco.
Then there is the State Government sponsored Galeria Carlos Olachea under the direction of the Secretary of Culture, B.C.S., whose exhibits change every three weeks.
All in all, make sure you allow plenty of days at the Hotel Mar de Cortez; there is much to see and buy in Cabo San Lucas.