Rates (Subject to change)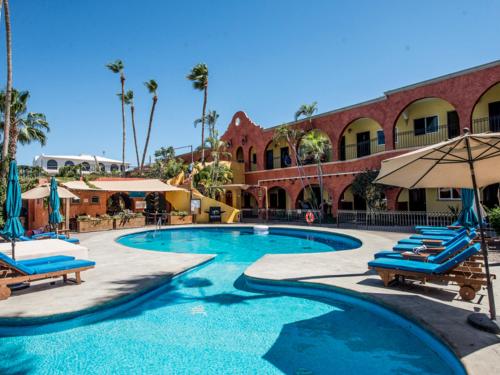 CURRENT RATES ARE PLUGGED INTO THE SYSTEM. THEY VARY DEPENDING ON YOUR DATES OF TRAVEL AND WHICH ROOM TYPE YOU CHOOSE.
WHEN YOU SELECT YOUR DATES OF TRAVEL, # OF PEOPLE, ETC. YOU WILL SEE AVAILABILITY & ROOM RATES FOR THE DIFFERENT ROOM TYPES.
ALL RATES ARE IN US DOLLARS. Current rate of exchange is $18 MX Pesos = $1.00 USD.
ALL RATES ARE PLUS 19% TAX & 10% SERVICE (29%).
CHILDREN AGE 12 & UNDER ARE FREE. OLDER THAN 12 YRS OF AGE THEY ARE CONSIDERED 'ADULTS' WHEN MAKING YOUR RESERVATION.
SPECIAL PROMOTIONS OFFER SPECIAL DISCOUNTS AND THEY WILL AUTOMATICALLY APPLY WHEN YOU BOOK.
CANCEL POLICY: Cancel policy: Two nights charged for cancellations made 15 or fewer days prior to arrival and 30 days prior to arrival for holidays (Christmas, New Year's, Easter).
MINIMUM NIGHT STAY POLICY:
Three night minimum stay if arriving on Dec 24-31.
Two night minimum stay if arriving on Jan 1 or 2.
FOR RESERVATIONS OR QUESTIONS IN ENGLISH: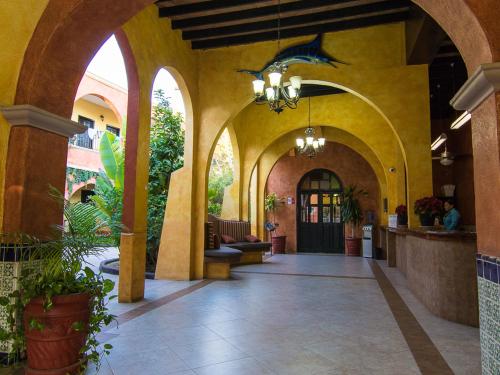 Use our direct on-line booking engine. See RESERVATIONS button at top right-hand corner of website home page.
If you have questions, use the CONTACT US botton on the top menu of the website home page.
OR...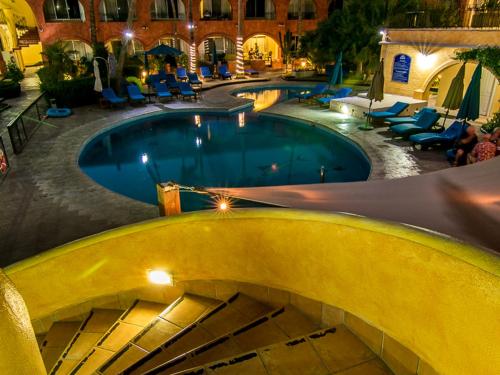 Email: mardecortez4info@gmail.com
Telephone: 1-831-663-5803 or 1-800-347-8821 (toll free)
If necessary, always leave your voice mail message so we can get back to you as soon as possible.
Hotel Mar de Cortez Reservation Office, P O Box 6185, Salinas CA 93912 USA
OFFICE HOURS: 9-5:00 Monday-Friday PST. PLEASE leave a voice mail message if you call and we are unavailable. On weekends and after hours by appointment only and we regularly check our email and voice mail.
You can always email us at mardecortez4info@gmail.com
PARA RESERVACONES O INFORMACIÓN SOLO EN ESPAÑOL:
Telefono +52-624-143-0032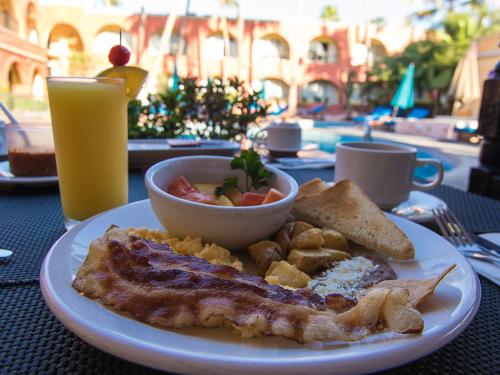 BREAKFAST NOW INCLUDED WITH MANY OF OUR PROMOTIONS...
Enjoy your early morning coffee and breakfast by the pool... so peaceful!
We will automatically add your complimentary breakfasts TO MANY, BUT NOT ALL OF OUR PROMOTIONS. This information will show up on your final confirmation once we have processed your deposit. Breakfast @ our EL CORTEZ RESTAURANT courtesy of Hotel Mar de Cortez. See the various promotions to see what they have to offer...

Breakfast meal of your choice, including coffee (Value $5.00USD)
Not included are additional drinks or any side dishes or additional items ordered. Tips not included.
Give your waiter your room number WHEN SEATED for your meal so they can check you off on their complimentary breakfast list. We thank you.